Monday.com is a powerful project management and work operating system (Work OS) designed to help teams of all sizes plan, track, and deliver their work efficiently. With an extensive range of functionalities and a user-friendly interface, The project management software has become a favorite tool amongst project managers, marketers, software developers, and agencies. This article will explain its key features, capabilities, alternatives, and pricing options to give you a clear understanding of how Monday.com can transform your team's productivity and workflow.
Pricing:
Monday.com offers various pricing plans to suit the needs of individuals, teams, and enterprises:
Individual Plan (Free):
This plan offers basic functionalities such as 2 boards with unlimited items, 1 GB storage, and 2 automation recipes per board.
Basic Plan ($8 per seat/month):
This plan includes features such as unlimited boards, 5 GB storage, 5 custom workflow recipes per board, and 1 dashboard. It's a great option for smaller teams.
Standard Plan ($10 per seat/month):
This plan provides additional features such as 20 GB storage, 10 custom workflow recipes per board, 3 dashboards, and the ability to invite unlimited guests. It's ideal for mid-sized teams with complex projects.
Pro Plan ($16 per seat/month):
With 50 GB storage, 25 custom workflow recipes per board, and 10 dashboards, the Pro plan offers advanced features like integration with private apps, time tracking, external access, and chart view. It's suitable for larger teams with more complex needs.
Enterprise Plan:
Enterprises can contact Monday.com for a customized plan with features such as increased security, custom onboarding, and tailored reporting to fit their unique requirements.
| Pricing Plan | Features | Price per Month (Billed Annually) |
| --- | --- | --- |
| Basic | Unlimited boards, tasks, and storage | $8 |
| Standard | Includes automations, integrations, and timeline view | $10 |
| Pro | Includes advanced time tracking, private boards, and formula columns | $16 |
| Enterprise | Includes VIP support, advanced security, and customizable permissions | Contact Sales |
Interface Screenshots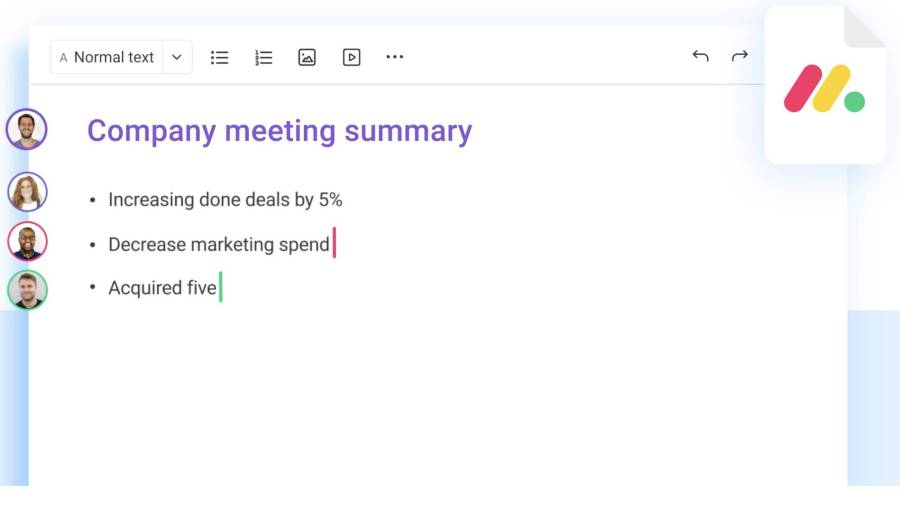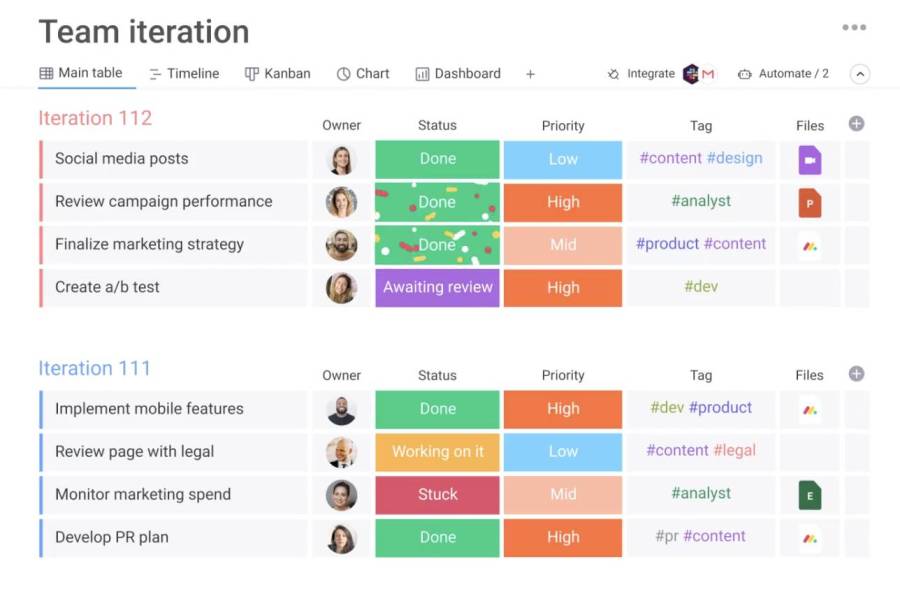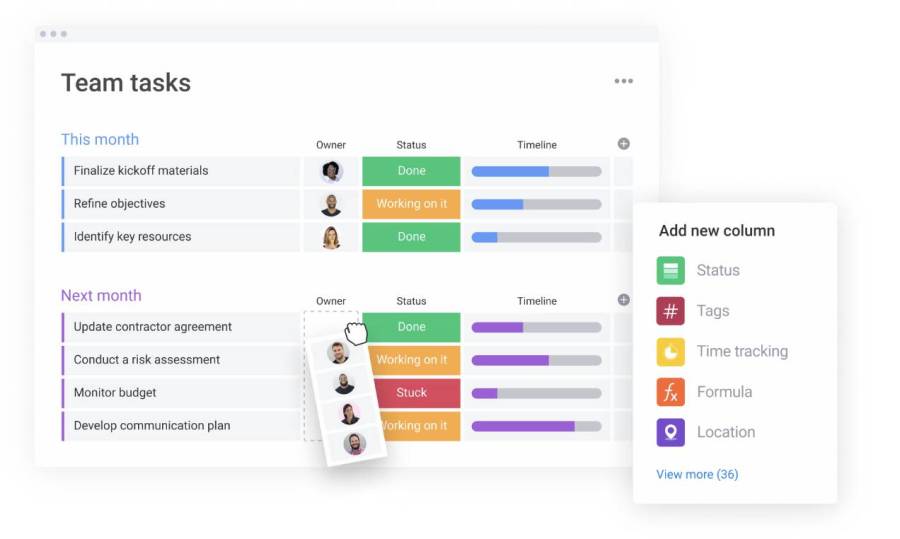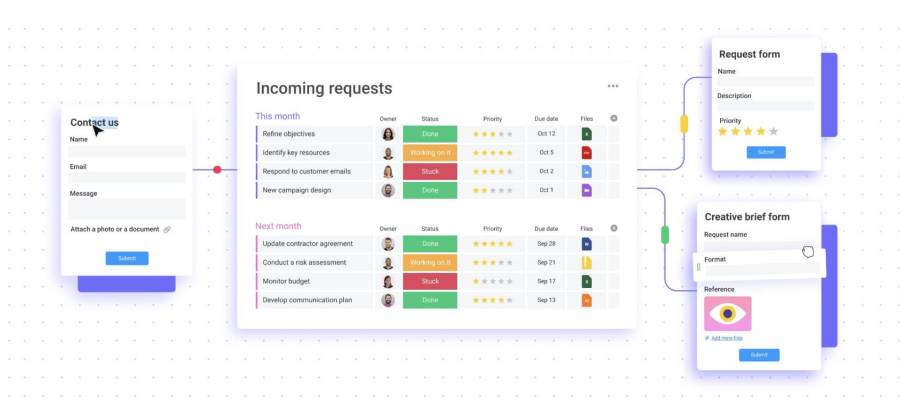 Key Features:
Visual task and project management: Monday.com offers a flexible and intuitive interface that allows you to visualize your team's projects and tasks on customizable boards. You can create multiple groups, columns, and rows to provide a clear overview of the project's progress.
Automation and integrations: The software allows you to automate repetitive tasks and actions by setting up custom rules and triggers. You can also seamlessly integrate Monday.com with a host of other popular tools, such as Google Drive, Slack, and Microsoft Outlook.
Collaboration and communication: With Monday.com, your team members can collaborate effectively by commenting, tagging, and updating task status within the platform. It also supports file sharing, thus eliminating the need for external communication platforms.
Time tracking and reporting: The software offers a built-in time tracking feature and customizable reports that will help you analyze your team's performance and productivity.
Capabilities:
Scalable for businesses of all sizes: Monday can accommodate the changing requirements of businesses as they grow, with customizable features that suit both small teams and large enterprises.
High customization options: The platform allows users to create their own custom work processes by building tailored boards, dashboards, and automations.
iOS and Android mobile apps: Monday offers mobile apps for both iOS and Android devices, enabling users to manage tasks, projects, and collaborate on the go.
Security features: Monday has an extensive range of security features, including GDPR compliance, TLS encryption, and adhering to global security standards, ensuring that your data is safe and secure.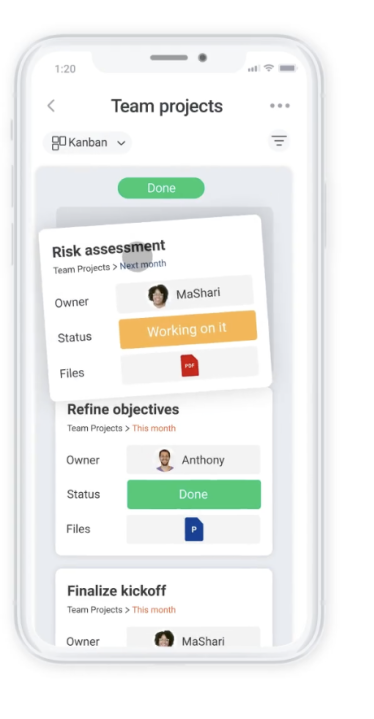 Pros and Cons
| Pros | Cons |
| --- | --- |
| Easy-to-use interface and customizable workflows | Pricing can be more expensive than some competitors |
| Multiple view options, including Kanban and Gantt charts | Steep learning curve for some users |
| Comprehensive task management features, including time tracking and deadline tracking | Limited integration options with some third-party tools |
| Robust automation options to streamline workflows | Limited reporting capabilities |
| User-friendly mobile app for on-the-go task management | Can be overwhelming for small teams with simple needs |
| Excellent customer support, including a knowledge base, video tutorials, and live chat | No free plan available; only a 14-day free trial |
Key Competitors and Alternatives
1. Asana:
Asana is another popular project management tool that offers a flexible platform to manage tasks, projects, and collaborations. It has a simple interface, making it great for smaller teams.
2. Trello:
Trello offers a visual approach to project management with its card-based system. It's great for teams that prefer a more visual interface for project organization.
3. Basecamp:
Basecamp offers additional features for teams, such as file storage, chat, and team collaboration tools. It's an ideal solution for remote teams and businesses that require a comprehensive yet simple project management system.
| Feature | Monday | Asana | Trello | Basecamp |
| --- | --- | --- | --- | --- |
| Kanban Board View | Yes | Yes | Yes | No |
| Gantt Chart View | Yes | Yes | No | No |
| Calendar View | Yes | Yes | No | Yes |
| Deadline Tracking | Yes | Yes | Yes | Yes |
| Time Tracking | Yes | Yes | Yes | Yes |
| Task Assigning | Yes | Yes | Yes | Yes |
| Team Collaboration | Yes | Yes | Yes | Yes |
| Workflow Automation | Yes | Yes | Yes | No |
| File Sharing | Yes | Yes | Yes | Yes |
| Price per Month (Billed Annually) | Starting at $8 | Starting at $13.49 | Starting at $9.99 | Starting at $99 |
Frequently Asked Questions (FAQ)
Q1: What are some alternatives to Monday.com?
A:1 Some popular alternatives to Monday include:
Asana
Trello
Basecamp
Wrike
ClickUp
Smartsheet
It's important to compare the features, pricing, and user interface of each tool to find the perfect fit for your team's needs.
Q:2 Is there a free trial available?
A:2 Yes, Monday offers a 14-day free trial that allows you to test out all the features and functionality without any commitment. No credit card information is required to sign up for the free trial.
Q3: Can Monday be used for remote teams?
A:3 Absolutely! Monday is designed to support remote teams, helping them collaborate effectively and stay organized, even when working from different locations. Features like real-time updates, file sharing, communication tools, and integration with popular third-party apps make it an excellent choice for distributed teams.
Q:4 Is it suitable for small businesses or startups?
A:4 Yes, it is well-suited for businesses of all sizes, including small businesses and startups. Its scalable, flexible features can accommodate growing teams, and its pricing plans offer options for various budgets.
Q5: What integrations does Monday offer?
A5: The company offers integrations with many popular third-party apps and services, including Google Drive, Slack, Dropbox, Zapier, Microsoft Teams, and more. This enables seamless communication and collaboration across tools, making it easy to centralize all your work in one place.
A6: The company prioritizes data privacy and security. It is compliant with industry-leading standards such as ISO 27001, GDPR, SOC 2 Type II, and the EU-US Privacy Shield Framework. They also employ measures like encryption for data at rest and in transit, two-factor authentication, and single sign-on (SSO) to protect user data
Conclusion:
Monday.com is a powerful and highly customizable project management tool designed to maximize productivity and streamline workflows for teams of all sizes. Its wide range of features, integrations, and pricing options make it an excellent choice for businesses looking to optimize their operations effectively. By understanding the key aspects of the project management software and comparing it with its alternatives, you can make an informed decision about the best project management tool for your business.